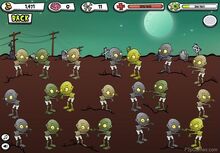 The Graveyard is a place where zombies are "exhumed" or brought to life. Each Zombie has its own unique Personality and date of death so be sure to look at the stats before you buy one! Getting different types of Zombies at a particular number can give the player additional achievements.
Ad blocker interference detected!
Wikia is a free-to-use site that makes money from advertising. We have a modified experience for viewers using ad blockers

Wikia is not accessible if you've made further modifications. Remove the custom ad blocker rule(s) and the page will load as expected.