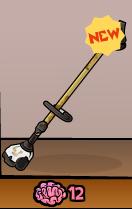 Weed Wacker is a Weapon available at the Weapons Shop dealing an initial damage of 57.8 at slow speed, bringing the overall damage to 34 points. This weapon is stronger than a Push Broom but is weaker than the Monkey Wrench. The weapon costs 12 Brains pieces but can only be sold for half the price. Although it is available at an earlier level and deals the same damage as a Mail Box, it is not well worth the price.
Ad blocker interference detected!
Wikia is a free-to-use site that makes money from advertising. We have a modified experience for viewers using ad blockers

Wikia is not accessible if you've made further modifications. Remove the custom ad blocker rule(s) and the page will load as expected.